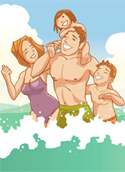 TOP TEN THINGS TO DO WITH YOUR CHILD IN HAMPTON
There is so much you can do TOGETHER in Hampton on Parental Involvement Day and every other day of the year!  Most of these are inexpensive or even free, and they are all things you can do TOGETHER.
1.  VISIT A LOCAL PARK OR BEACH (Buckroe, Grandview, Sandy Bottom, Blue Bird Gap, Gosnold, Downtown Waterfront, etc.).  Collect shells. Bring a picnic lunch.  Swim or skim board.  Toss a frisbee.  Go to summer concerts and movies.  Find details here.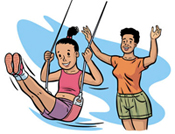 2.  VISIT A LOCAL ATTRACTION OR MUSEUM (Virginia Air and Space Center, Air Power Park, Casemate, Blue Skies, Hampton History Museum, Charles Taylor Arts Center, etc.).  It's all right in your backyard!
3.   PLAN A FAMILY ACTIVITY NIGHT (game night, family dinner, listen to/play music, go stargazing). Encourage kids to come up with their own ideas.  These can be fun and easy to plan.
4.  PROMOTE FAMILY FITNESS TOGETHER (take a walk, ride bikes, visit the YMCA, hit a bucket of golf balls, fly a kite, rollerblade).  Get out and get moving - try something your kids like to do!  See what's happening at the Boo Williams Sports Complex and the community activity centers.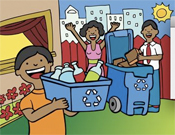 5.  PARTICIPATE IN SCHOOL ACTIVITIES (PTA, reading to kids at school, book fair, field day, dances, fine arts performances).  School PTAs, teachers, and clubs need help, and you'll have as much fun as the kids.
6.  ATTEND LOCAL SPORTING EVENTS (football, soccer, Pilots, school teams).  There are great school and city league teams.  There are also leagues through the YMCA and a variety of events at community centers.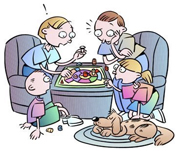 7.  PROMOTE READING IN YOUR CHILDREN (go to the library or local book stores, read a book or newspaper together and discuss what you read).  Kids of all ages benefit when we read to them and with them.  Enhance reading by discussing what you read.  Encourage children to select their favorite book for you to read.
8.  EXPLORE YOUR COMMUNITY (visit Ft. Monroe or Langley AFB, take public transportation, explore somewhere you don't usually go).  There are things to do and places to see that might surprise you - broaden your horizons!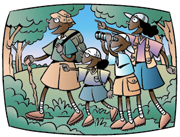 9.  PLAN A FAMILY PROJECT (plant a tree or flowers, paint or redecorate a room, spruce up the yard, etc.)  Plant something and watch it grow - it will bring years of enjoyment.  Work on a recycle or energy savings plan for your family.  Organize your hurricane or storm "survival" supplies and evacuation plan.  Balance family spending.
CREATE YOUR OWN FAMILY TRADITION AND LET THAT BE #10?