Video Programming Informational Notice To the Deaf and Hard of Hearing (PDF)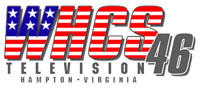 WHCS, Channel 46 is an international award-winning cable TV station providing Hampton City Schools and the Hampton community with the best in television services. With our highly talented, professional staff and state-of-the-art remote production truck, we bring our viewers a wide array of quality programming.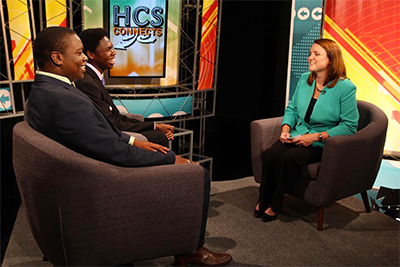 Programming Features
School Board meetings are aired live and rebroadcast at various times for our viewers' convenience. Meetings are aired live on the first Wednesday of each month at 6:30 p.m. They will be rebroadcast on Fridays at 6:00 p.m. and again Saturdays and Sundays. Watch videos of past school board meetings.
Live broadcasts and replays of high school graduations and other on-location events.
Monthly on-site coverage of Hampton City Schools Citizen of the Month Luncheon.
Fascinating and informative in-studio productions: School Notes is a Hampton City Schools news program highlighting all of the positive happenings within the school division. We showcase our students, teachers, staff and administration. It's what's happening right now in Hampton City Schools. Our cameras bring your story to life! Do you know someone with a story to tesl? Story ideas come from everyone, including YOU.  Contact Kellie Goral with your story ideas.  kgoral@hampton.k12.va.us You can watch School Notes on Cox Cable Channel 46 and Verizon FiOS Channel 20 seven days a week at 9 a.m., noon, 3 p.m., 8 p.m. or on the Hampton City Schools' YouTube page. Subscribe today so you can get the latest news from School Notes! Our mission is to reach as many people as we can and share the very best of Hampton City Schools. To remind viewers about our vision, our news anchor says at the end of every newscast, "Every child, every day, whatever it takes!"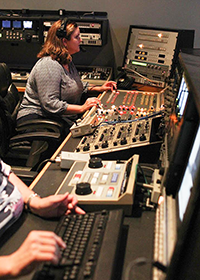 HCS Connects is a television program to showcase the people who make things happen behind the scenes in Hampton City Schools.  HCS Connects brings you closer to school system happenings, policies, and current news. This program gives you an opportunity to meet policymakers and stakeholders.  Kellie Goral, executive director of public relations and marketing, hosts HCS Connects.

Exciting on-site coverage of sporting events featuring Peninsula District teams in baseball, softball, soccer, football and basketball complete with play by play announcers as well as slow motion instant replay. WHCS covers a variety of sporting events per season. We have a sports library of over 1000 tapes dating back to 1985. DVD copies are available for purchase at a cost of generally $25. For more information or to see if we have a game you are looking for please contact us at 850-5364.
Community Message Board
A community message board is provided on Channel 46. Messages for non-profit organizations are advertised at no charge. (No commercial, political or religious functions). Message may be faxed to: 848-2357, mailed to: Television Services, 1819 Nickerson Blvd. Hampton, VA 23663 or emailed to: rcamden@sbo.hampton.k12.va.us