The Department of Printing and Records Management provides in-house printing and publication support for All Hampton City Schools and Departments. Also, this office extends these services to the City of Hampton. Additionally, The Department of Printing and Records Management oversees the retention and destruction of public records/documents for the schools as well as administrative offices.
PRINT SHOP
Hampton City Schools offers an online service to securely and conveniently request and obtain student records. The fee for each item requested is $5 per address, plus a 3.00 processing fee. For graduates requesting information to be expedited an express shipping service is available for an additional $20 per address.
(REQUESTS are processed and mailed out of the office within 5-7 business days,
express service mailed with 1-3 business days)
The following information may be requested online:

Transcript
Verification of Name
Proof of Graduation
SAT / ACT
Verification of Date of Birth
Immunization Record

*GED Verifications are available at GED.com


Important Note: Special Education Records

Special education records (i.e., homebound, ELL, gifted/talented, etc.) are only maintained for five years following graduation, transfer, or withdrawal from Hampton City Schools.  After five years these records are destroyed in compliance with the Library of Virginia policy. Click here to view the Library of Virginia Records Retention Schedule. If you believe any of these records may be needed in the future, we highly recommend obtaining copies before they are destroyed.
Upon completing the online request form, you will receive a confirmation email that your request has been received. Once your order has been processed by the Records Department and mailed, your payment will be processed and you will receive an email confirmation and receipt.
You may request records in person at: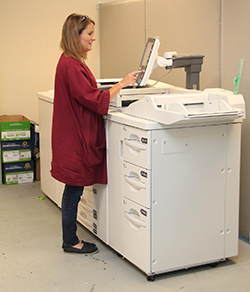 Hampton City Schools
Department of Printing and Records Management
1 Franklin Street, suite 227
Hampton, VA 23669

Office hours: 7:30 am – 4:00 pm
You must bring a picture ID. There is a $5.00 processing fee, per document. We accept cash or money orders only. Records will only be released to the individual that the records belong to or to the parent or legal guardian of students under the age of 18.

If the student did not graduate from Hampton City Schools, the student will need to contact the last school attended.
Please call 757-727-2230 if you have further questions.