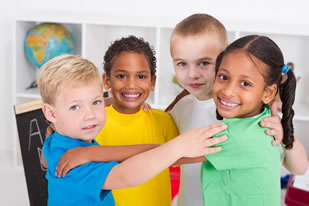 All pre-kindergarten students must be four years old on or before September 30.
All HCS pre-k eligibility screening takes place at Moton Early Childhood Center
339 Old Buckroe Road

Hampton, VA. 23663

757-727-1061
For eligibility and items needed to register visit Pre-Kindergarten Registration
Hampton City Schools offers full-day, high-quality early childhood education to eligible children through the Virginia Preschool Initiative (VPI). The Virginia Preschool Initiative is a state funded program that provides quality preschool programs for at-risk four-year-olds unserved by the federal Head Start program.
The purpose of the program is to reduce disparities among young children upon formal school entry and to reduce or eliminate those risk factors that lead to early academic failure.
At each of our pre-k sites - There is a qualified instructional and support staff, and a certified school nurse. A family service worker provides family support by connecting home and school activities.
In the classroom- Each classroom has a certified early childhood teacher and an instructional assistant. A maximum of 20 students are in each classroom. A developmentally appropriate curriculum is used and aligned with the Early Learning Developmental Standards (ELDS).
Transportation- Transportation is provided to any Hampton resident. Yellow school buses provide transportation to and from home addresses, childcare providers or day care centers to each pre-kindergarten location. All students must be picked up and dropped off at the same address.
Pre-K Students with Special Needs: Any child 2-5 years of age needing services for speech, language, or developmental delays may be screened through Hampton City Schools Special Education. Please call 727-2405 for further information.